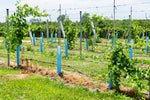 Aubrey Vineyards is Overland Park's first winery. 2010 marked the acquisition of approximately 200 acres in southern Overland Park, Johnson County, Kansas. Much of the land was and still is being used by crop and livestock farmers. On the way back from a trip to Napa, we realized the land could also be used to grow grapes, make wine, and host events.
The area where the grapes are planted, just south of River Ridge, is one the highest elevations in this area and has gentle slopes of fertile, loamy soil that is low in clay content. This is perfect for grape vines. The high location affords breezes on most days which ward off vine diseases, and the slopes and porous loam keep the soil well-drained.
In 2020, we will be celebrating our 10 year anniversary and 6 years of producing Napa Valley style wines in the heart of the US. You can find all of our wines and events at https://www.aubreyvineyards.com/.