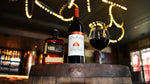 As the first winery and vineyard in Overland Park, Aubrey Vineyards' uniqueness has always been evident through its variety of approachable styles--from classic red and white varietals, both sweet and dry to the ever popular Vidal Blanc and Apple wines. Alongside developing Midwestern standard releases like the Norton and Chambourcin, AV's head winemaker is focused on developing small hand-crafted batches of premium wine to provide a perfect pairing for all wine drinkers, both new and connoisseur.
This month, Aubrey Vineyards is kicking off the AV Select Series! The Select series of wines features the winemaker's exploration into special wines of limited quantities or unique characteristics. First among them is the 2017 Bourbon Barrel Aged Norton, a limited release wine aged in a single bourbon barrel. Showcasing a brilliant plum and currant flavor accented with a subtle bourbon spice note, this Norton wine is an exciting and complex entry into the AV canon.
Keep an eye out for upcoming Select Series releases! Each AV Select wine will feature an experimental flavor profile and have an extremely limited release, so act quick to get a taste before they're gone!