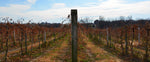 Aubrey Vineyards has fully concluded grape harvest for 2022! Things move quickly at the Overland Park vineyard and winery, with bud break to harvest season lasting only around 7 months! While the extracted juice from the grapes begin fermentation in stainless steel tanks or open ferment bins at the winery, the vines begin the process of entering dormancy for the wintertime within a few short weeks.
While it may appear that the hard work is over for the season, there is still much more to do in order to ensure the long-term success of the vines! Many nutrients are lost when grapes are taken out of the vineyard, so it is essential to replace those minerals with post-harvest fertilizing. This helps vines restore all the necessary nutrients for winter dormancy and spring growth. Additionally, the vineyard is heavily maintained ahead of the wintertime, with any weeds tended to and the mounding of grafted rootstocks.
This is a time of year that more and more wine is brewing in the tanks than any other--keep an eye on the AV newsletter and website, as new vintages and varietals are just around the corner!