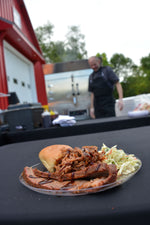 Fall is peak harvest season at Aubrey Vineyards, and events are in full swing! When looking for a winery near me, many people are interested in having hot food options available to pair with local midwestern varietals like the Chambourcin, Vignoles, and Vidal Blanc wines. This is a feature AV is always looking to provide, and The Vineyard Tasting Room has partnered with many different local restaurants and businesses to create memorable events with great food and wine!
The coronavirus pandemic dramatically shifted both the way restaurants serve customers and the way people dine. Pop-up restaurants have become a growing trend in the post-COVID world, as people are looking for a convenient way to dine that is connected to a memorable experience. Smoak Craft BBQ, for example, is an emerging food vendor founded in 2020 who has found success without any brick and mortar restaurant as a home base. On the other side of the spectrum, Q39 is a well-established name in KC barbeque who is dipping their toes into pop-up style service.
Similarly to food trucks, food pop-ups live and die by their ability to be on-site for major events. Aubrey Vineyards has proven to be an excellent testing ground for these restaurants in the KC area due to its scenic location, regular in-house events, and delicious wines that ensure every meal has its perfect pairing. Visit the AV events page to stay in the know on upcoming food pop-ups this fall!