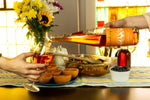 As we gradually leave behind the dog days of summer, Catawba is the perfect combination of sweetness and acidity. The Aubrey Vineyards Catawba has bright notes of blood orange, melon and refreshing foxy finish. This easy-to-drink wine is perfect for a Saturday brunch or a cool summer night. Come by the Aubrey Vineyards tasting room in Downtown Overland Park to pick up your bottle. Curbside pick up is also available at 
https://www.aubreyvineyards.com/. 
The Catawba grape is one of the oldest known native grapes in the United States. While the exact origin is unknown, scholars believe this grape originated in the early 19th century. It is likely a hybrid of Vitis labrusca and Vitis vinifera.
While most Catawba grapes are produced in the midwest, they have gained recognition in California & Europe. In fact, the Ohio River Valley had become so famous for Catawba, that Nicholas Longworth wrote in 1847, "The day is not distant when the Ohio River will rival the Rhine in quantity and quality of its wine."
Stop by and try a sample of a delicious Kansas wine - Catawba 2017