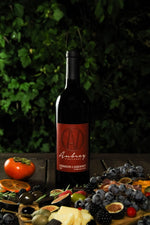 The Aubrey Vineyards Crimson Cabernet 2017 is the perfect fall wine. With its bold spice and robust tannic structure, this local wine transports you from living room to bonfire. 
Crimson Cabernet is a hybrid varietal of Cabernet Sauvignon and Norton grapes created by Lucian Dressel. He wanted to produce a California style wine from midwestern grapes. In 2002 Dressel and his friend Dr. Harold Olmo created 2 varietals: Crimson Cabernet (red) and Cabernet Doré (white). Visit Midwest Wine Press for more articles on the history and production of midwestern viticulture and midwestern wineries.
The Aubrey Vineyards Crimson Cabernet boasts a dark plum color with rich ruby edges. Muscular tannins are supported by deeply nuanced fruit, earth, and tobacco. Tart blackberry and fig churn as complex layers of spice roll over the front of the palate: cinnamon, anise, coriander, and turmeric. The full tannin structure and climbing acidity develop into a long, balanced finish. 
Stop by the Aubrey Vineyards tasting room in Downtown Overland Park for a sample. Or order online and select curbside at the vineyard to see the latest updates in our construction.
Cheers!