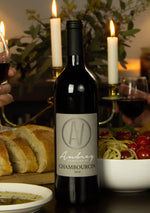 Did you know that Kansas has a state grape? Yup! It's the Chambourcin. Aubrey Vineyards has been serving the Chambourcin since our first day of business.
Chambourcin is a unique grape. It is a French hybrid varietal. In the wine world it is fairly young, production began in 1963. It is one of few varietals where the juice is naturally a red color. Most grape juice color is originally white/ opaque then the skins are allowed to rest in the juice to create a red color & tannin. 
The Aubrey Vineyards Chambourcin is un-oaked. It features notes of blackberry, cherry and cranberry, and finishes with fresh cracked pepper and baking spice. 
 Stop by our tasting room in downtown Overland Park to pick up a bottle. Cheers!