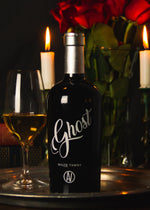 The days are growing shorter and evenings are cooler. The month of October brings bursts of color and surprises. As you reach for something to warm your soul, consider the new Aubrey Vineyards Ghost to lift your spirits.
Elegant and rich, Ghost, Aubrey Vineyards newest wine release, is a white port-style with incredible depth. A stirring blend of aromas ranging from raisin to hibiscus flower to local honey and wild grass plains. Glazed apricot, white raisin, and caramel apple begin each sip, with a generous finish of honey, marmalade, and toffee to round out the flavor. This premier KC wine creates an other-worldly dessert wine experience. 
Stop by the downtown Overland Park location to try a sip, or come by our Overland Park vineyard for curbside pick up. 
Cheers!