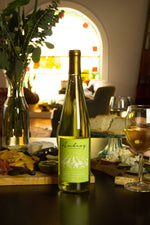 Looking for the perfect summer wine? Try Aubrey Vineyards Valvin Muscat 2016. This refreshing white wine is similar to Moscato with mild floral and citrus aromas. The real excitement is the pineapple and passionfruit notes. Each sip takes you on a tropical journey.
The Valvin Muscat grape was developed at Cornell University as a winter hardy white varietal with exceptional flavors and aromas. The grape consistently creates wines with spicy, floral aromas with no unpleasant bitterness in flavor.
While the Muscat family of grapes is centuries old, the Valvin Muscat has only been available for 13 years with its commercial release in 2006. It has experienced a dramatic upswing in popularity. In 2011, Moscato sales were up 73%. Recently, Muscat varietal wines became the 3rd most popular category of white wine in the US.
While many are staying home, why not pour yourself a mini vacation in a glass! This local wine is available for just $10 a bottle!
The Aubrey Vineyards Valvin Muscat is available for curbside pick up at our Overland Park vineyard. Want to try a sip? Join us at our Downtown Overland Park location (inside Vinyl Renaissance). We offer personalized free wine tastings every day of the week! For more information visit www.aubreyvineyards.com. 
Cheers!