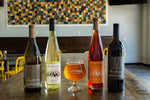 Servaes Brewing Company is now serving local KC wine from Aubrey Vineyards!
Servaes Brewing is located in history downtown Shawnee, Kansas. They focus creating unique and fun beers. You'll never find the same beer twice. The headbrewer, Courtney, is inspired by New England IPA's and innovative sour beers. She expresses her creativity in every beer they create. From a Wild Berry Daiquiri to Easy to Crack, they have a beer for all palattes.
We are excited for this partnership because not only is there headbrewer and our winemaker both female, Servaes Brewing shows a unique creative spin to local craft beer. 
Stop by their tasting room in downtown Shawnee for a 4-pack of delicious beer and/or a bottle of local wine. They currently have 4 of Aubrey Vineyards wines: Chardonnay 2014, Moscato 2017, Catawba 2017, Cabernet Sauvignon 2016.
#BrewedByAGirl Cheers!