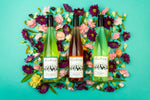 Aubrey Vineyards winery now has a Spritzed Collection! Your favorite local wines with a twist. The Moscato, Traminette, and Catawba have a bright fizz and exciting fruit notes.
The Moscato 2017 excites the senses with fizzy bright orange peel and peach tasting notes. Subtle floral tones are showcased in both aroma and flavor, while other nuanced flavors reward the patient sip: melon, honeysuckle and kafir lime. Airy and tart, this refreshingly sweet local wine has a light effervescent body.
Straw blonde in color, the spritzed Traminette 2019 is both lively and delicate in its presentation. At first, this wine displays a blend of light acidic fruits: passionfruit, lime and honeydew. The finish deepens the experience bringing in notes of mango and golden apple, all resting atop a bright mineral water structure.
The energetic spritzed Catawba 2019 immediately greets the senses with notes of orange blossom and cantaloupe. Its cheery salmon color compliments the graceful touches of tart acidity, which artfully rinses the palatte between sips. This local wine toes the line between semi-sweet and semi-dry, teasing your senses sip after sip.
Come try a sample at our tasting room in downtown Overland Park.
Cheers!