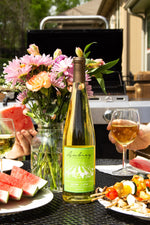 The Aubrey Vineyards Apple Wine is a deliciously refreshing white wine. Made from local apples, this is 100% apples, there are no grapes in this wine.
The Apple Wine has been a part of the Aubrey Vineyards winery line up since our very first day. It is a local favorite!
Produced in stainless steel, this wine is light and crisp in the body. The apple flavor may not even appear until the end of the sip, leaving your palatte refreshed. This KC wine is the perfect pairing with KC BBQ favorites. 
Stop by our tasting room in Downtown Overland Park for a quick sip, or pick up a bottle from our vineyard in South Overland Park.
Cheers!