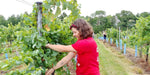 It's that time of year! Harvest at Aubrey Vineyards has officially begun. We hand-pick our Kansas wines. It takes a lot of effort, but it makes our winery special. Being a small KC winery, all members of the company come out to help harvest. It's a great way for us to get together and create lasting relationships with each other and the wine. 
Being able to sit down and enjoy a glass of local wine that you, yourself, picked, is an amazing feeling. Join us in the tasting room to sample Napa style wines in Kansas City, or you can order curbside delivery at our winery.
Visit https://www.aubreyvineyards.com/ for hours and more information. We can't wait to share our local wine with you!
Cheers!