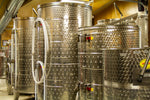 What makes a winery a winery and a vineyard a vineyard? Even experienced wine drinkers can get confused about the distinction between certain phrases in the wine world. While the terms are not mutually exclusive, there is an important difference that helps inform your understanding of a location you may be looking to visit.
Vineyards are the actual fields where the grapes are grown that are eventually processed into wine. Often, vineyards will have a winery on site. If not, they ship the fruit to winemakers elsewhere who begin the fermenting process.
A winery, on the other hand, refers to the location where the grapes are pressed and fermented into the finished product. You would find large, stainless steel tanks or wooden barrels there that develop the wine in preparation for bottling. In a similar fashion to breweries, most wineries have tasting rooms on-site where wine can be sampled and purchased.
Aubrey Vineyards' growth and wine production is almost entirely done on-site. A few wines require grapes that don't do well with the temperamental weather of the Midwest, so those grapes, such as Cabernet Sauvignon, are brought from other growing regions to create these wines. Additionally, Aubrey Vineyards has a tasting room at the vineyard! This allows for a full-service tasting experience that lets you see the process all the way from the vine to your glass.