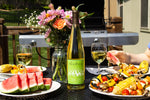 The Apple Wine from Aubrey Vineyards is a hit this time of year. This chilled, non-grape wine has just the right balance between sweetness and tartness, which serves as the perfect refreshment for a hot summer day.
Freshly pressed, apple juice was slowly fermented at low temperatures in order to retain crisp aromas and tart flavors of pure, fresh apples. 
Try this wine by the glass or by the bottle at either Aubrey Vineyards location, or order online to enjoy in the comfort of your home!