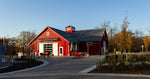 Aubrey Vineyards strives to ensure each visitor has a consistent experience each time they visit the Overland Park tasting room. Something you will always find during a visit to the Napa Valley is a strong focus on a premium and curated wine tasting in a beautiful space that creates long-lasting memories. The Aubrey Vineyards mission is to put just as much effort into the tasting experience as we do with our wine to provide that same getaway for the Kansas City area without having to go far at all.
Being an all-inclusive vineyard, winery, and tasting room, the Kenneth Road location seeks to demystify the winemaking process while maintaining a premium feel. With a focus on fresh, crisp wines developed on-site, any selection will create a refreshing and relaxing tasting experience. Aubrey's tasting room experts are well-educated on the flavor notes and ideal pairings for each of the wines, and are happy to guide you to finding your new favorite.
Stop in
Wednesday through Saturday from 11AM-7PM or Sunday from 11AM-6PM to get a sampling of the finest midwestern wines in a setting that feels like a retreat from city living.