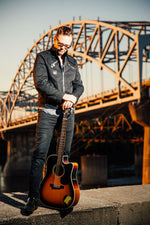 In March,  David George will be performing live at Vinyl Renaissance & Audio, located in downtown Overland Park. The Aubrey Vineyards tasting room is located right inside, so come rock out and enjoy a complimentary wine tasting as well.
Featured dates:
March 5th - performing with Anna Cook and the Shawnee Mission North Strings Ensemble. The Heartland Rovers (fea. Deegan Poores) will open up at 12 noon.
March 12th -  performing with members of Crooked Mile acoustic and will be joined sometime during the set by 12 year old guitar wiz, Christian Alldredge (he will also be opening the show at noon).
March 18th - full band will be performing and celebrating the release of his new album Radiant Man.
Tory Stoffregen (The New Black 7), former Kansas Citian will open around 6:30 pm.
Hope to see you there!