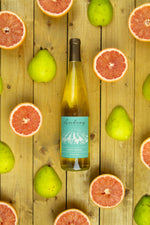 The Aubrey Vineyards Vidal Blanc 2019 is the perfect choice for a warm and sunny spring day. This semi-dry white wine with peach and apricot flavor notes is a fan favorite this time of year. 
Crafted with precision, the Vidal Blanc grapes were pressed immediately after harvesting, and the juice was then settled and fermented cold in order to capture all of its enticing aromas. Floral and fruity aromas are complemented by bright, long lingering citrus flavors. The Vidal Blanc has just enough sweetness to perfectly balance its crisp and refreshing acidity.
Stop into either tasting room location to sample our selection, or purchase a bottle online to enjoy at home!