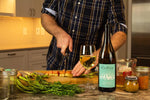 One of the best ways to experience local wine is to pair it with local foods. Last week we worked with a local caterer for a virtual tasting.
Engineered Edibles is located directly next door to the Aubrey Vineyards Downtown Overland Park Tasting Room. They've provided many charcuterie boards and paired meals for wine releases. Here's what we paired last week!
1.
Moscato 2017
- This Moscato is fizzy with orange peel, peach, lime, and honeysuckle notes. Pairs beautifully with melon, goat cheese, and French bread.
2.
Vidal Blanc 2015
- Similar to Pinot Grigio, the Vidal Blanc offers enticing citrus and stone fruit notes with refreshing finish. Pairs beautifully with aged gouda, mild fish, and jams.
3.
Chambourcin 2018
- As the Kansas state grape, the Chambourcin features black cherry and currant notes, with hints of black pepper, smoke, and baking spices in the finish. Pairs beautifully with dry and spicy meats.
4.
Tawny 2016
- The Tawny features plum, toffee, and rum raisin flavors atop a core of spice, walnuts, and cognac. Pairs beautifully with dark chocolate. Also, try it with bleu cheese if you're feeling adventurous!
Stop by Engineered Edibles:
The Table
for a delicious local lunch then pop by the Aubrey Vineyards Tasting Room for local wine. Cheers!